The San Luis Obispo County Disc Golf Club.
The SLOThrowers is a non-profit organization dedicated to promoting the sport of disc golf and fostering a sense of community for disc golfers in San Luis Obispo County.
Players Cup #1 - Winter/Spring 2013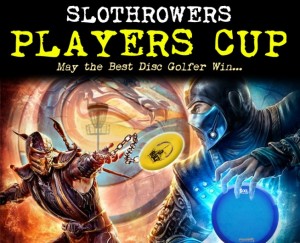 Players Cup #1 Winter/Spring 2013 Begins: 2/9/13 Ends: 4/27/13 Who is the best SLOThrower? Well... we are about to find out! SLOThrowers is hosting a 'members only' 3 month tour consisting of 12 Singles Events played on all 3 SLO Courses!!! ---> View [more]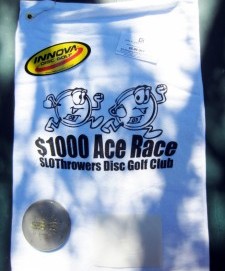 Another Awesome $1000 Ace Race! 7 Aces, 35 Players, 25+ CTP Prizes, Good Food and Good Peoples! And, every player received a Player's Pack: Custom Disc Golf Towel, Mini, $5 Coupon To Golf Land Warehouse, Innova Sticker and Custom Disc Golf Decal! Each Ace [more]
The SLOThrowers endeavor to promote Disc Golf as an environmentally friendly, family oriented, and socially beneficial sport that helps enable lifelong fitness and can coexist amicably with other recreations in urban areas and parks. The SLOThrowers primary goal is to build additional permanent disc golf courses in the San Luis Obispo area. Additional goals of the SLOThrowers are to promote and support local tournaments, to provide a fun atmosphere for all Disc Golfers and to provide quality equipment at a reasonable cost to our members.
Since 2004, SLOThrowers has designed, funded, constructed and maintained 4 disc golf courses in San Luis Obispo County: Sinsheimer Park (2004), Heilmann Park (2005), Laguna Lake (2007 – Still Under Construction) and Santa Margarita Lake KOA (2011 – Still Under Construction).
With the help of dedicated Disc Golf locals, San Luis Obispo will have several more beautiful and challenging courses to enjoy.